There are 3 points; Tai Yo Tome and this style has a stress on the extention of the 3rd point Tome. The lower part runs a little bit longer which make the main line curved more than usual. The line becomes elegant.
the tree I used called a sasanqua, the sort of Cameliia.

Il y a 3 points; Tai Yo Tome et ce style insiste sur l'extention du 3ème point appelé Tome. La partie plus basse devient plus long qui rendent la ligne principale courbée plus qu'ordinaire. La ligne est justement élégante.
l'arbre que j'ai utilisé a appelé un sasanqua, une sorte de Cameliia.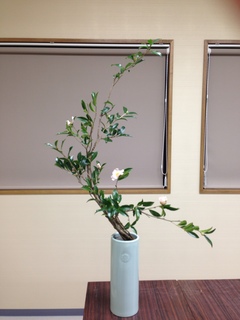 http://www.sun-inet.or.jp/~ayumi/kyoto/kyotoguide.htm