On December 22 for the last Ikebana lesson of this year I arranged two kinds of Seika (traditional style). I used pine tree which was the auspicious tree using 7 branches, lucky number, in the vase of bamboo.
Le 22 décembre pour la dernière leçon d'Ikebana de cette année j'ai arrangé deux sortes de Seika (le style traditionnel). J'ai utilisé le pin qui est l'arbre cérémonial en utilisant 7 branches, nombre fortuné, dans le vase de bambou.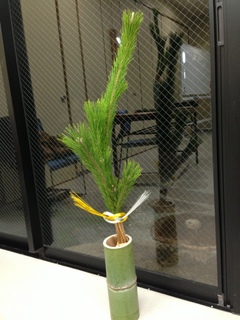 This is the typical decoration for New Year.
C'est la décoration typcal pendant le nouvel an
For the second one, I used leaves and red beans called Omoto (Japaese Rhodea). I decorated it in the alcove of my house.
Pour le deuxième j'ai utilisé des feuilles et des haricots rouges appelés Omoto (le Rhodea japonais). Je l'ai décoré dans l'alcôve de ma maison.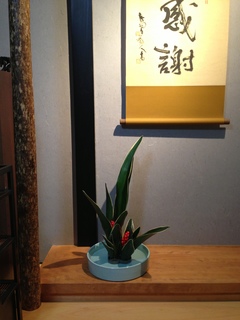 Now this Japanese room is ready to have New Year of Snake (2013)
I wish you to have a wonderful New Year!
Maintenant cette pièce japonaise est prête à avoir le Nouvel an de Serpent (2013).
Je vous souhaite une bonne Année!
http://www.sun-inet.or.jp/~ayumi/kyoto/kyotoguide.htm