For this month's lesson my teacher prepared Primula sieboldii (Japanese primrose). The flower looks like Cherry blossom so we call it "Sakura(cherry blossom) - So(Plant)".

Pour la leçon de ce mois ma maîtresse a préparé la Primevère sieboldii (la primevère officinale japonaise). La fleur ressemble à la fleur de cerisier donc on l'appele 'Sakura (la fleur de cerisier) - So(le plant)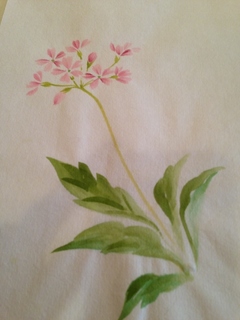 I also painted mini-Japanese bellflower on the cover of lope and flashlight. I used acrylic paint instead of Japanese water-color paint. It was difficult to put the color on the surface.

J'ai aussi peint la mini clochette japonaise sur la couverture de la loupe et de la lampe de poche. J'ai utilisé les coleurs à l'acrylique au lieu de les coleurs à l'eau japonaises. Il était difficile de mettre la couleur sur la surface.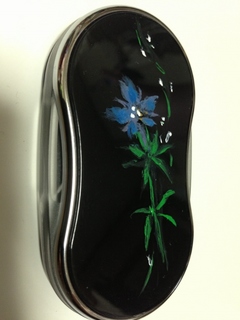 http://www.sun-inet.or.jp/~ayumi/kyoto/kyotoguide.htm

KOTOBURA International
http://kotobura.seesaa.net/