On November 22, 23 the Ikebana exhibition of Renrin group in Asuka branch, Saga Goryu school was held at Seigan temple in the city-center of Kyoto.

I arranged tea plant (camellia sinensis) in the pewter container based on the traditional style called Seika.



Le 22, 23 novembre, l'exposition d'Ikebana du groupe Renrin dans la branche d'Asuka de l'école de Saga Goryu a été tenue au temple Seigan au centre-ville de Kyoto. J'ai arrangé l'arbre à thé (le camélia sinensis) dans le récipient d'étain basé sur le style traditionnel appelé Seika.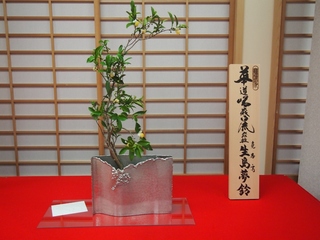 Here is my teacher, Shoho Sakai's work:
Voici le travail de mon Ikebana professeur, Shoho Sakai :


And his students' works. The wooden boards represented the certificate
of Ikebana teacher for which we had been working years and years.
Et les travaux de ses étudiants. Les plaques en bois ont représenté le certificat de professeur d'Ikebana pour qui nous avions travaillé des années et des années.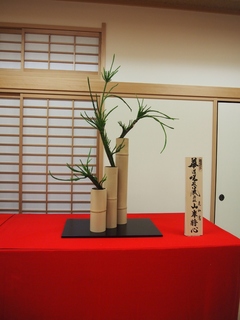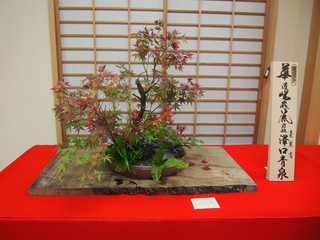 I put the rough drawing of the polar bear done by Isamu Noguchi next to my work for giving hidden message that we should protect the nature. The seasonal flower of tea plant is unknown but just blooming beautifully.



J'ai mis le dessin de l'ours polaire fait par Isamu Noguchi à côté de mon travail pour donner le message caché que nous devrions protéger la nature. La fleur saisonnière d'arbre à thé est inconnue, mais juste florissant admirablement.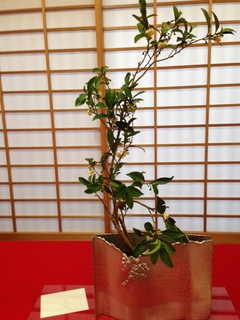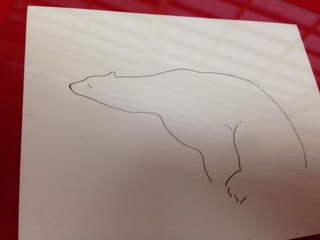 http://www.sun-inet.or.jp/~ayumi/kyoto/kyotoguide.htm

KOTOBURA International
http://kotobura.seesaa.net/