Here is the traditional style called Seika using narcissus. Believe or not when you form this special shape of narcissus, you require a kind of special surgical treatment which means you have to take off the bottom part and reposition the leaves and flowers into special attached form and put it back into the bottom part. The procedure is cruel but still the flowers can bloom later in that condition. Narcissus are quite strong survivors. Each school has a different method for putting them together in the special form and this method handed from a teacher to a student.
Voici le style traditionnel appelé Seika de l'utilisation du narcisse. Croyez ou pas quand on forme cette forme spéciale de narcisse, on exige une sorte de traitement chirurgical spécial c'est-à-dire qu'on doit enlever la partie de fond et replacer les feuilles et les fleurs dans la forme attachée spécialement et le remettre en partie de fond. La procédure est cruelle mais tout de même les fleurs peuvent fleurir plus tard dans cette condition. Le narcisse est de tout à fait forts survivants. Chaque école a une différente méthode pour les assembler dans la forme spéciale et cette méthode donnée d'un enseignant à un étudiant directement.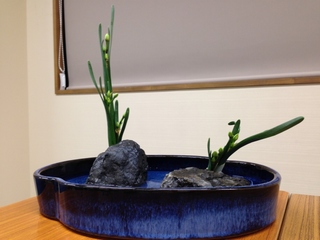 While he was correcting my teacher brought stones for placing in front of positioned flowers and suddenly the beautiful scenery was emerged from the water vase. It was just a magic.
Pendant qu'il corrigeait mon professeur a apporté les pierres pour mettre devant les fleurs placées et subitement le beau paysage a été émergé du vase d'eau. C'était juste une magie.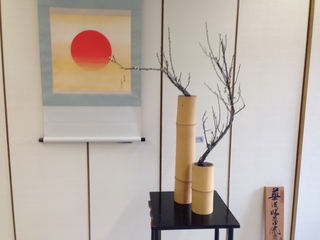 For the new year my teacher made beautiful traditional style, Seika, using plum trees.
Pour le nouvel an mon professuer a fait le beau style traditionnel, Seika, en utilisant des arbres de prune.

http://www.sun-inet.or.jp/~ayumi/kyoto/kyotoguide.htm

Kyoto Eye
http://kotobura.seesaa.net/