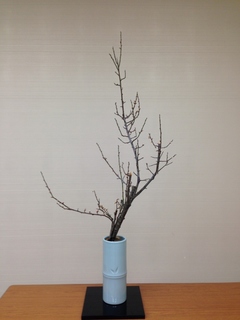 Here is the traditional style of Ikebana called Seika using plum trees which start blooming in his season. Plum trees have a masculine-like shape with the strength compare to Cherry blossom trees having a feminine-like shape with the elegant lines. You can find the difference with the photo of Cherry blossom ones that another student arranged.
Voici le style traditionnel d'Ikebana appelée Seika l'utilisation des arbres de prune qui commencent à fleurir dans cette saison. Les arbres de prune ont la forme avec la force de masculin en comparaison des arbres de cerisier ayant la forme de féminin avec les lignes élégantes. Vous pouvez trouver la différence avec la photo des arbres de cerisier qu'un autre étudiant a arrangés.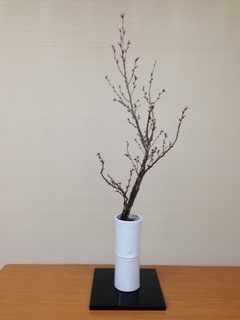 I decorated this plum tree flower arrangement in the alcove of my house because I also enshrine one of the Shinto gods, Michizane Sugawara, who used to be the intellectual sophisticate aristocrat in Heian period around 9-10th century.

He was degraded and sent to South part of Japan from Kyoto even he was innocent and he could never come back to Kyoto where he had enjoyed appreciating his beloved plum trees.

After his death he became one of the Shinto gods.

My family keeps the statue of this god from generation to generation so I even offer a small plum-tree arrangement dedicating specially to him.
J'ai décoré cette composition florale des arbres de prune dans l'alcôve de ma maison parce que je déifie et décoré aussi la statue d'un de Dieux de Shintoïsme, Michizane Sugawara, qui était l'aristocrate raffiné et intellectuel dans la période Heian autour du 9 et 10ème siècle. Il a été dégradé et envoyé à la partie Sud du Japon de Kyoto même il était innocent et il ne pouvait jamais revenir à Kyoto où il avait apprécié ses arbres de prune préférés. Après sa mort il est devenu un de Dieux de Shintoïsme. Ma famille garde la statue de ce Dieu de la génération à la génération donc j'offre même un petit arrangement d'arbre de prune dévouant spécialement pour cette statue.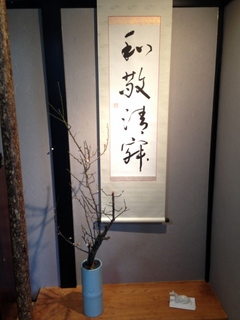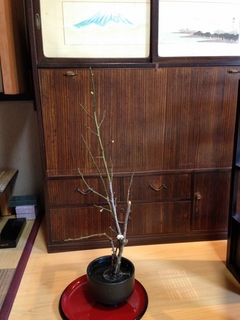 http://www.sun-inet.or.jp/~ayumi/kyoto/kyotoguide.htm
Kyoto Eye
http://kotobura.seesaa.net/