Here is the traditional style called Seika using cherry blossom trees.
It does look like that the tress are alive and they are going to move.

Voici le style traditionnel appelé Seika en utilisant les branches de cerisier.
Il semble vraiment que les branches soient vivantes et elles vont bouger.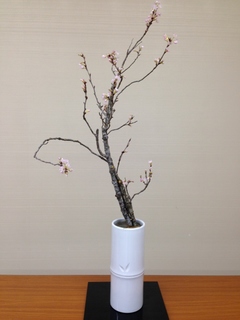 The day of he lesson was 6th March but after 17days they are still blooming in my Japanese room.

Le jour de la leçon que j'ai pris était le 6 mars, mais après 17 jours elles fleurissent toujours dans ma pièce japonaise.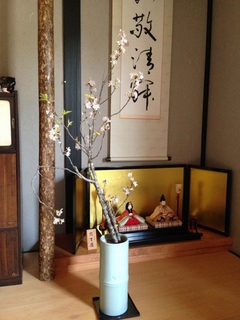 We believe that spring has come right after the Vernal Equinox Day and we have to wait another one more week to see beautiful cherry blossoms blooming here and there in Kyoto. We love to have a party under the chery blossoms having food and sake. That is so fun that we almost forget to appreciate the flowers of cherry blossoms.

Nous croyons ce printemps est venu directement après que le Jour de l'équinoxe de printemps et nous devons attendre une autre semaine pour voir les fleus de cerisier en fleurissant ici et là à Kyoto. Nous aimons avoir une fête sous les cerisiers avec les repas et le saké. C'est ainsi amusant que nous oublions presque d'apprécier les fleurs de cerisier.

http://www.sun-inet.or.jp/~ayumi/kyoto/kyotoguide.htm

Kyoto Eye
http://kotobura.seesaa.net/