The 3rd March we celebrate girls' day decorating Prince and Princess dolls called HINA-NINGYO(dolls).
For that day I painted HINA dolls.
Le 3 mars nous célébrons le jour de filles en décorant les poupées du Prince et de la Princesse appelées HINA-NINGYO (les poupées).
Pour ce jour j'ai
peint des poupées de HINA.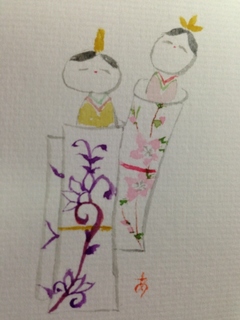 Actually I have already decorated the real HINA dolls in the alcove of my tea room.
The prince and princess wear the costume of aristocrats in Heian period (794-1191).
En effet j'ai
déjà décoré les poupées de HINA réelles dans l'alcôve de ma pièce de la célémonie du thé.
Le prince et la
princesse portent le costume d'aristocrates dans la période de Heian
(794-1191).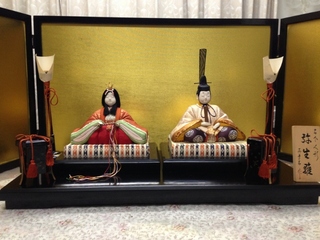 It was quite cold with some snow in Kyoto
but I felt that spring has come by drawing Narcissus.
C'était tout à
fait froid avec un peu de la neige à Kyoto mais je me suis senti ce printemps
est venu en dessinant le Narcisse.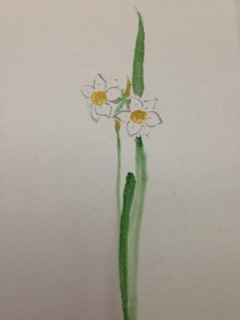 KOTOBURA International Channel by Ustream
will be started on 9th March.
La chaîne de
KOTOBURA International par Ustream sera commencée le 9 mars.
http://www.ustream.tv/channel/kotobura-international
Please check out our Blogs and Facebook
Page and Twitter
Visitez notre
Blogs, la Page de Facebook et le Twitter.
Blog:
http://kotobura.seesaa.net/article/323679076.html
http://kotobura.seesaa.net/article/322498409.html
Facebook page:
https://www.facebook.com/Kotoburainternational
Twitter:
https://twitter.com/KOTOBURAINTER