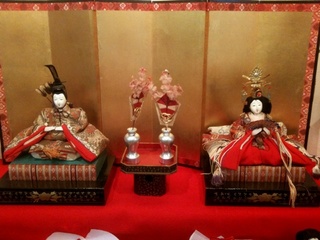 HINA-MATSURI
The third March is the ceremonial day for
all Japanese girls. On that day, we called the girl's day, very
traditional dolls, Ohinasama, are displayed at home. Basically there are
Prince and Princess on the costumes of aristocrats in Heian period (794-1192)
and sometimes other dolls are added such as 3 court ladies who serve for
Princess, 5 music players, 2 ministers and even the furniture. We
decorate them for one month hoping the happiness of the girls in the
family. This is one of the traditional events in Japan and some antique
dolls have been succeeded from generation to generation in the family.
HINA-MATSURI
Le trois mars est
le jour cérémoniel pour toutes les filles japonaises. Ce jour appelé le jour de
la fille, les poupées très traditionnelles, Ohinasama, sont disposées à la
maison. Fondamentalement il y a le Prince et la Princesse sur les costumes
d'aristocrates dans la période Heian (794-1192) et quelquefois d'autres poupées
sont ajoutées comme 3 dames de cour qui servent pour la Princesse, 5 joueurs de
musique, 2 ministres et même les meubles. Nous les décorons depuis un mois en
espérant le bonheur des filles dans la famille.
C'est un des événements traditionnels au Japon et quelques poupées
anciennes ont été héritées de la génération à la génération dans la famille.

http://www.sun-inet.or.jp/~ayumi/kyoto/kyotoguide.htm