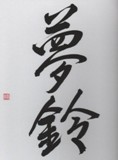 MURIN

Mu means dream and RIN means bell. This is my special name for practicing Ikebana in Saga Goryu school. MU was taken from the name of MUSO SOSEKI who was the Zen master and talented garden designer in the end of 13 century.
Kyoto has its history for more than 1200 years and it is always the center of Japanese traditional culture such as gardens, Ikebana(flower), Tea-ceremony, Calligraphy and so on. As the national English guide and the garden designer, Murin is happy to introduce you the beautiful spots and events which are reflected by seasons. I love Japanese gardens especial beautiful stones in the gardens. If you want to know more about Kyoto please visit my web-site;
http://www.sun-inet.or.jp/~ayumi/kyoto/kindex.htm
MURIN

MU signifie le rêve et RIN signifie la cloche. C'est mon nom spécial pour pratiquer l'Ikebana dans l'école de Saga Goryu. MU a été pris du nom de MUSO SOSEKI qui était le maître de Zen et le grand créateur de jardin à la fin du 13e siècle.
Kyoto a son histoire depuis plus de 1200 ans et c'est toujours le centre de la culture traditionnelle japonaise comme les jardins, l'Ikebana (les fleurs), la Cérémonie du thé, la Calligraphie etc. Comme la guide nationale en anglais et la créatrice de jardin, Murin est heuruse de vous présenter les belles endorits et les événements qui sont reflétés par les saisons. J'aime des jardins japonais particulièrement les belles roches dans les jardins. Si vous voulez savoir plus de Kyoto, visitez mon site Internet;
http://www.sun-inet.or.jp/~ayumi/kyoto/kindex.htm